Happy Hump Day to all our fellow lovers of the leaf – we are at the halfway point of the week and looking forward to the weekend – but in the mean time we've got a stogie in hand and some deals to review across the web, so lets get to it.
First off, score a 5 pack of the Asylum Schizo Natural Seventy for only $15.53 shipped to your door. The Schizo Natural features a Nicaraguan Habano wrapper draped over top of Nicaraguan fillers with notes of leather, and cream with a subtle hint of cocoa. Mild to medium bodied. Grab yours now at Cigar Page. 
Rocky Patel Edge lovers rejoice, we've got Edge blends at 52% today – choose from the Corojo, Habano, Sumatra, Connecticut and Maduro at only $32.50 for packs of 10 toro size – shipped! Boxes of 20/25 starting as low as $79.80 – holy cow this just might be the deal of the week here! See all the sizes available and score on these amazing deals now at Cigar Page. 
Score savings of up to 68% on big name brand exclusives – we're talking Romeo y Julieta Capulet box of 20 only $87095, Inferno by Oliva box of 20 only $68.95, ACID Subculture box of 24 only $100.95, Punch Sucker Punch box of 18 only $67.95, Alec Bradley Sun Grown box of 20 only $65.95, Joyo de Nicaragua Merciless box of 20 only $50.95 and so many more! Multiple blends and sizes to choose from all at huge savings – get these exclusive blends and sizes on sale now only at Famous Smoke!
As if the above wasn't enough, try this on for size – Buy 3 boxes and only pay for 2 – hundreds of selections available, add three qualifying boxes to your cart and the lowest price box will be free – and the best part – no limit – you want 6 boxes? Cool – you'll only pay for 4! Get 9 boxes only pay for 6 and so on – only limitation is that you can only purchase 2 of the same box in any order. Time to stock up the humidor folks because this deal is insane! Get it now at Famous Smoke!
Grab a box of 20 of the Cornelius $ Anthony Venganza Silencer Corona Gorda for only $129.99 – that's 30% off – Boasting a slick and spicy Ecuadorian Habano wrapper over burly Nicaraguan binder and filler tobaccos, the Cornelius and Anthony Vengaza presents a powerful smoke with the imposing tasting profile to back it up. Solid notes of cedar, pepper, espresso, and a rich leather swirl around in a mosh-pit of mouthwatering complexity, accompanied by a lingering coffee-and-cream sweetness that punctuates every puff. Score this deal before they're gone at Best Cigar Prices!
Grab a box of 20 of the Debonaire First Degree for only $82.99 – a savings of 30% – Combining only the finest Dominican and Nicaraguan filler tobaccos under a sturdy Dominican binder and hearty Ecuadorian Connecticut Shade wrapper, these flavorful, medium-bodied ultra-premiums come as close to achieving the lofty goal of the perfect cigar as one can imagine; offering clean, crisp, and complex taste in each puff. Grab this amazing deal now before they're gone at Best Cigar Prices.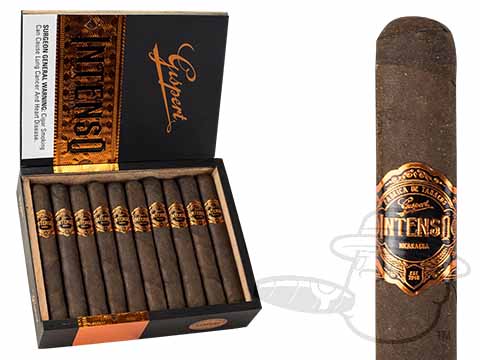 Pick up a box of 20 Gispert Intenso Corona's for only $96.99 – a savings of 25% – Dark, full-bodied, and crafted to perfection, the Gispert Intenso injects an impressive blast of power into the world-famous Honduran Gispert cigar line-up. Loud tasting notes of chocolate, pepper, leather, cinnamon, and deep earth bombard the palate over the course of a long, slow, and straight-burning smoke. Get it while you can at Best Cigar Prices. 
Get a box of 25 Asylum Insidious Habano for only $99.99 – a 30% savings – The third sweet-tipped blend to join Asylum's tasty Insidious cigar line-up, Insidious Habano packs a hearty mix of Honduran fillers under a zesty Habano wrapper. Handmade at Christian Eiroa's El Aladino factory in Honduras, Insidious Habano fuses the unmatched flavor of Jamastran Valley tobaccos with an added dose of sweetness that takes this medium-bodied masterpiece to the next level. Get it now at Best Cigar Prices. 
Get a 5 pack of the Rocky Patel 15th Anniversary toros for only $28.99 with free shipping. This 6 1/2″ x 52 box pressed beauty is made up of Nicaraguan fillers and is wrapped in an Ecuadoran Habano leaf. This is a beautiful cigar with a dark, somewhat oily wrapper with little to no veining. Score this amazing deal now at Cigar Place. 
Get a 5 pack of the Drew Estate Liga Undercrown robustos for only $21.99 with free shipping! With earthy tobacco as the core flavor, Undercrown evolves into a luxurious array of nutty, creamy blasts of cocoa and sweet Nicaraguan spice. The overall profile is similar to the "classic maduro profile," yet much more refined. A sweet, thick finish completes the phenomenal bouquet of flavor, proving that Undercrown is definitely one of a kind. Get yours now at Cigar Place.